When:
April 8, 2019 @ 1:00 pm – 3:00 pm
2019-04-08T13:00:00-04:00
2019-04-08T15:00:00-04:00
Where:
Kaneff Tower, 7th floor

Contact:
Julie Feinberg
4167365823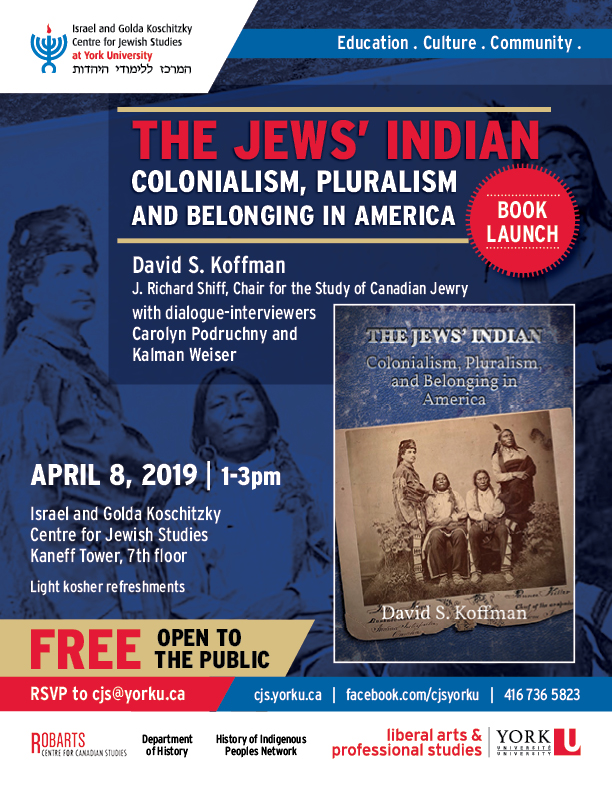 Join the Koschitzky Centre for Jewish Studies and the History of Indigenous Peoples Network for their first ever collaborative program, an interview and discussion with Professor David Koffman about his new book, The Jews' Indian: Colonialism, Pluralism, and Belonging in America (Rutgers University Press, 2019). Professor Koffman will be interviewed by York University professors Carolyn Podruchny, and Kalman Weiser.
David S. Koffman is Associate Professor in the Department of History, and the J. Richard Shiff Chair for the Study of Canadian Jewry. His undergraduate courses include "Worry & Wonder: Jewish Politics, Culture & Religion in Canada", "A Convenient Hatred: Antisemitism Before, During and After the Holocaust," "God/USA: Religion in America Since 1491", "Making Money," and "History of Me: The Genealogy Seminar". His current research projects examine circumcision debates at the intersection of medicine & religion, and the history of Jewish mayors in Canada. He is the editor-in-chief of the journal Canadian Jewish Studies, and the Associate Director of the Centre for Jewish Studies.