The Israel and Golda Koschitzky Centre for Jewish Studies is Canada's first interdisciplinary research centre in Jewish Studies, bringing together a vibrant community of scholars and teachers to promote cutting-edge research in the field.
Jewish Studies encompasses the study of the texts, histories, and cultures of the Jewish people, which developed alongside and within Western and non-Western civilizations.  Uniquely Jewish intellectual, philosophical, literary, theological and social traditions developed from the Biblical period onward - distinct from but in steady interaction with the traditions of countries in which Jewish life flourished, contributing to and absorbing from the cultures they touched.  As an academic field, Jewish studies concentrates on its own inner continuities and ruptures, as well as on the ways it has affected and been affected by other cultures.  To study Jewish thought and history, then, is to gain a richer and more complex  understanding of the underpinnings of Jewish culture specifically, and Western and non-Western cultures more broadly, as well as the mutual influences which helped shape each.   A multidisciplinary nexus, Jewish Studies draws upon many methodologies and disciplines, and also contributes its insights to those disciplines.
NEW! "Artist in Residence" online exhibit by Noa Yaari 
---
Events
Jan
27
Thu
Book Launch: Shadows in the City of Light
Jan 27 @ 7:00 pm – 9:00 pm
We are pleased to invite you to the launch of the book Shadows in the City of Light: Paris in Postwar French Jewish Writing, edited by Centre members Sara R. Horowitz, Amira Bojadzija-Dan, and Julia Creet, to be held on Thursday, January 27, 2022 at 7pm on Zoom.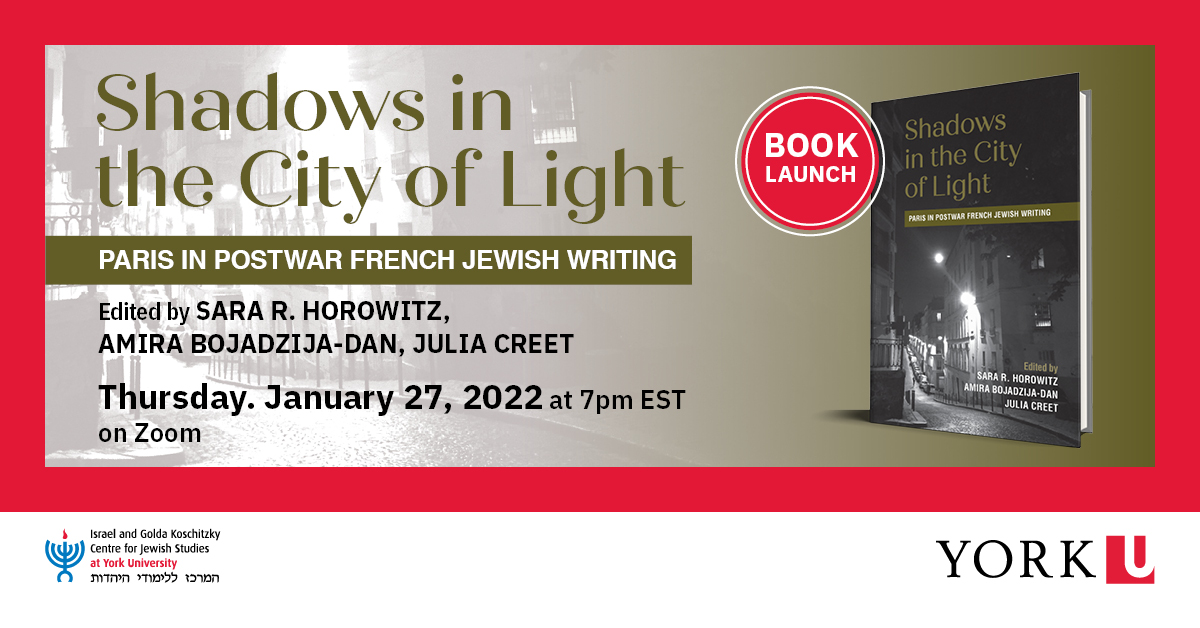 Between the two World Wars, Paris was a magnet for eastern European Jews fleeing oppression and attracted by it promise of equality. But these "foreign Jews" – immigrants and their children – were the most vulnerable during the Nazi occupation of Paris and the ensuing round-ups and deportations. After World War II, the public conversation about the evils of World War II rarely acknowledged Jewish victimization. But urban space remembers. Post-war Jewish writing – by both native Parisians and war refugees – walk their readers through the city's streets and neighborhoods. In their writing, the citiscape itself bears witness to the absent Jews, and what happened to them.
RSVP: https://yorku.zoom.us/webinar/register/WN_V3iHQdv-R8uHxxZirMAIZA