The Israel and Golda Koschitzky Centre for Jewish Studies is Canada's first interdisciplinary research centre in Jewish Studies, bringing together a vibrant community of scholars and teachers to promote cutting-edge research in the field.
Jewish Studies encompasses the study of the texts, histories, and cultures of the Jewish people, which developed alongside and within Western and non-Western civilizations.  Uniquely Jewish intellectual, philosophical, literary, theological and social traditions developed from the Biblical period onward - distinct from but in steady interaction with the traditions of countries in which Jewish life flourished, contributing to and absorbing from the cultures they touched.  As an academic field, Jewish studies concentrates on its own inner continuities and ruptures, as well as on the ways it has affected and been affected by other cultures.  To study Jewish thought and history, then, is to gain a richer and more complex  understanding of the underpinnings of Jewish culture specifically, and Western and non-Western cultures more broadly, as well as the mutual influences which helped shape each.   A multidisciplinary nexus, Jewish Studies draws upon many methodologies and disciplines, and also contributes its insights to those disciplines.
NEW! "Artist in Residence" online exhibit by Noa Yaari 
---
Events
Oct
25
Sun
2020 Canadian Jewish Literary Awards

@ Zoom
Oct 25 @ 2:00 pm – 4:00 pm

Canadian Jewish Literary Awards Celebrate 2020 Winners in Online Ceremony
The Canadian Jewish Literary Awards is honouring nine outstanding books for 2020. Now in its sixth year, the Canadian Jewish Literary Awards recognizes and rewards the finest Canadian writing on Jewish themes and subjects.
"Even during this year of isolation, choosing only nine Award winners from the depth and breadth and quality of the submissions was a challenge," said Jury chair, Edward Trapunski. "Although the annual Awards ceremony will be online it will show the vibrancy of the culture and the appeal of Jewish themes for fiction and non-fiction writers."
Winners have been declared in the following categories: fiction, biography, Jewish thought and culture, poetry, history, books for children and youth, Yiddish, scholarship, and Holocaust.
The Awards ceremony will be presented on the Canadian Jewish Literary Awards YouTube channel and homepage on October 25, 2020, at 2:00 pm.
Come see and hear winning authors speak about their books!
Nov
3
Tue
Hitler's Lists: How the Nazis Used Names to Spawn the Holocaust

@ Zoom
Nov 3 @ 11:30 am – 1:30 pm
Hitler's Lists: How The Nazis Used Names to Spawn the Holocaust
A talk with Prof. Iman Nick
Even before the infamous Yellow Star, the Nazis devised a simple yet effective method to pinpoint victims for wide-spread discrimination, marginalization, relocation, deportation, and finally extermination.  Using first-hand accounts from Holocaust survivors and documents unearthed from the once secret files of the Nazi Party, this lecture tells the story of how personal names were used to fulfill Hitler's genocidal vision.  The talk will also present modern-day examples in which something as seemingly innocuous as a person's name has been used to carry out crimes against humanity.
Professor I. M. Nick is a sociolinguist with a specialization in forensic onomastics and investigative psychology.  She is the President of the Germanic Society for Forensic Linguistics and the Editor-in-Chief of NAMES, the oldest and largest scholarly society for the study of names and naming. Among her many publications is her latest book, Personal Names, Hitler, and The Holocaust: A Socio-onomastic Study of Genocide and Nazi Germany by Lexington Books (ISBN: 978-1498525978)
Please register via the link provided above and join us on Zoom!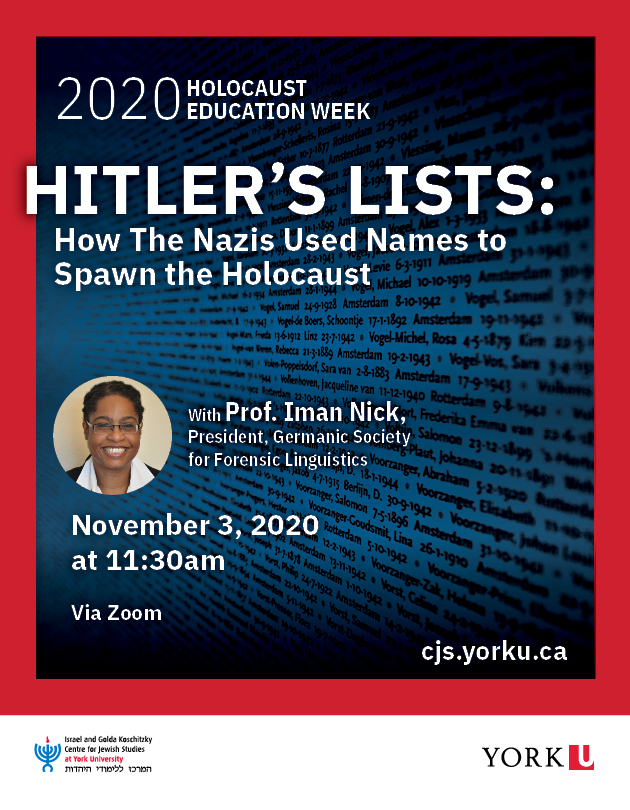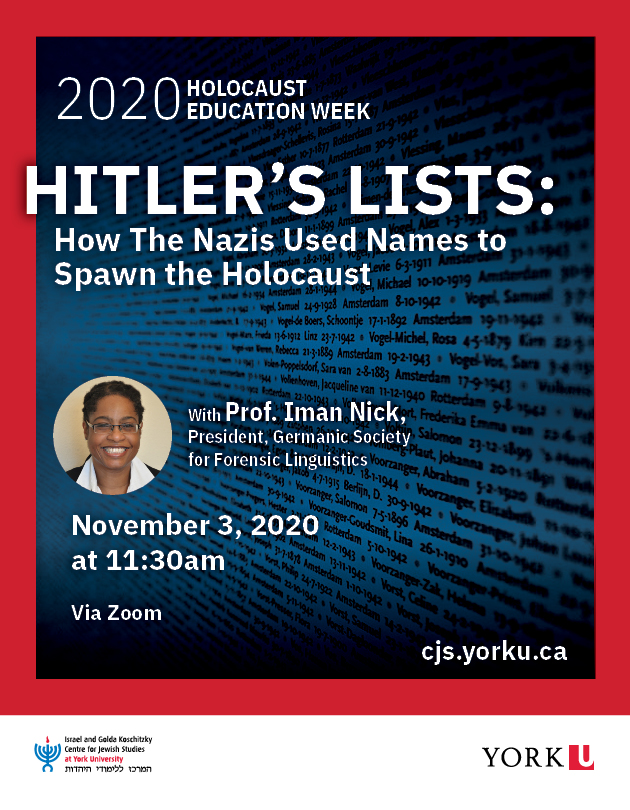 Nov
15
Sun
Canadian Jewish Historical Fiction - discussion panel

@ Zoom
Nov 15 @ 6:00 pm – 8:00 pm
The Canadian Jewish Historical Fiction panel features four internationally acclaimed authors, Ayelet Tsabari, David Bezmozgis, Norman Ravvin, and Nessa Rapoport, who will be interviewed by York professors David Koffman (History) and Sara Horowitz (DLLL) about their writing, the challenges and opportunities of historical fiction writing, the state of Canadian immigrant and minority literature, and about modern Jewish letters.
Under the aegis of York's Koschitzky Centre for Jewish Studies, the event will provide an opportunity for the Toronto (and broader Canadian) Jewish community and the CanLit community to come together for an engaging and relevant discussion.
Join us on Zoom!